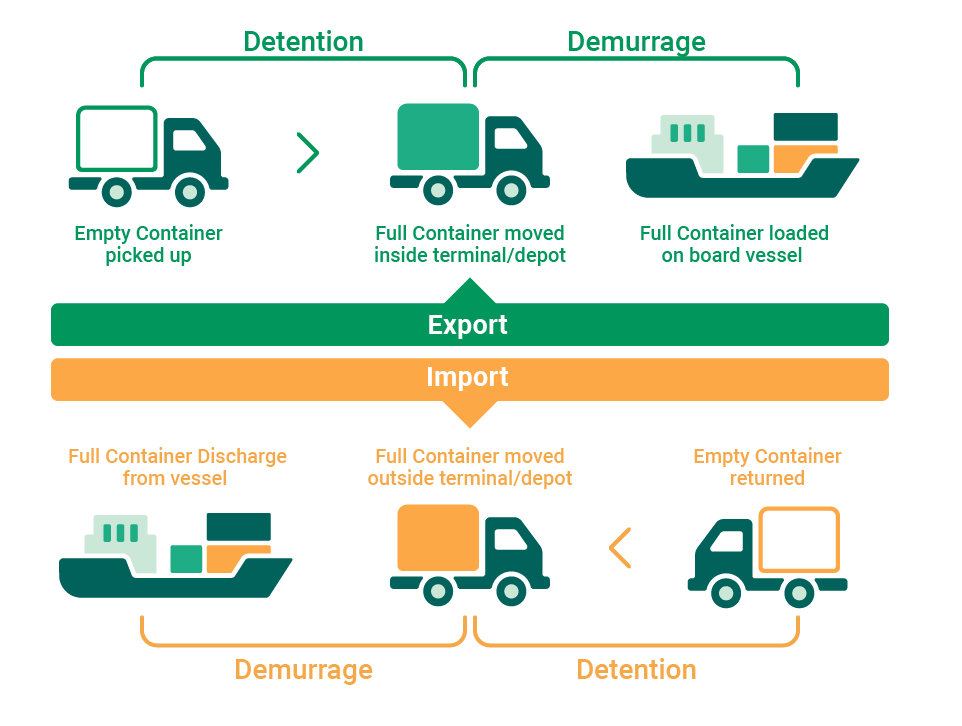 Demurrage is the fee applicable when the customer holds carrier equipment in the terminal for longer than the agreed amount of free demurrage time. It can be incurred for both exports (early drop-off/ gate in) and imports (late pick-up).
Detention is the fee applicable to all containers that remain in the customer's possession outside of the terminal longer than the agreed free detention time. Both of these fees highlight the importance of a swift and smooth supply chain.
Calculations of demurrage and detention costs are based on calendar days, and the amount is per day.
Non-operating reefers (NORs) are charged as DRY containers.
Reefer demurrage includes plug-in/electricity charges.
Shipper's Own Containers (SOC) are not subject to detention.
Demurrage starts the same day as the container is discharged, or the next day if the container is discharged after 16.00hrs. It ends the same day as the container is gated out (full).
Detention starts the same day as the container is gated out (full). It ends the same day as the container is gated in (empty).
What is Standard Free Time?
Standard Free time is the period of time offered by a carrier to customers free of charge, covering both demurrage and detention periods. Beyond this time additional charges such as, but not limited to, demurrage and detention charges, will be due.
Difference between Demurrage and Port Storage Charges
Port storage charges are levied by the port for containers that have not been moved out of the port within the free days. This affects yard space and port productivity. Usually, every port offers a certain free period between three and seven days to process import requirements and pick-up the container from the port.
Port storage charges
Port storage charges are collected for full containers that are uncleared for import. As well as full containers yet to be shipped for exports or empty containers within the port. Different terminals offer different free days. The charges are collected directly by the port or via the shipping line. As the shipping lines sometimes move the containers to a private depot to avoid storage charges for the customer.
What causes Demurrage and Detention?
Demurrage and Detention can happen for a variety of reasons: when the containers are not being picked up due to certain instances such as port congestion, limited chassis supplies, customs exams, lack of truckers, etc.
Demurrage charges can occur which is difficult to plan your way out of as these circumstances can be unknown at the time of booking or arrival.
Detention charges most often occur due to a lack of clarity around who is supposed to report back to the truckers, when the containers are empty and ready to be returned. When miscommunication happens between Supplier, Trucker and the Logistics partner, then containers are stranded outside the ports for longer periods and before they are returned, Detention charges may have occured.